The Heart of a Champion is a non-profit organization and aim to keep our products as affordable as possible. The cost of the program is $25 per student for one full year. This includes nine workbooks for every student, nine workbooks for every teacher, one set of posters, one DVD, one educator resource notebook and 100 certificates. We will also include free video training and support throughout the year. The only thing not included in this price is a shipping fee.
If a school needs more of a specific item, they can order the following materials a la carte.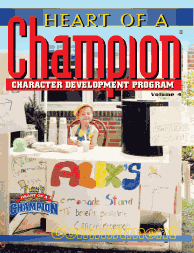 | | |
| --- | --- |
| DVDs | $10.00 per unit |
| Poster Sets | $27.00 per set (set of 9) |
| Student Books | $1.00 per book |
| Educator Guides | $3.00 per book |
| Certificates | $5.00 per set (25 certificates) |
| Training on-site | $600 per day training plus travel expenses |
In some instances, Heart of a Champion has been able to help secure alternative funding sources to underwrite a portion of the program for a school in need of financial assistance. Our goal is to not allow funding issues to be a prohibitive factor for any school.
To order Heart of a Champion materials, or to receive a detailed program quote, please contact us at info@heartofachampion.org or at 817-427-4621.
Marketing DVD
Educator Comments
Pricing Page